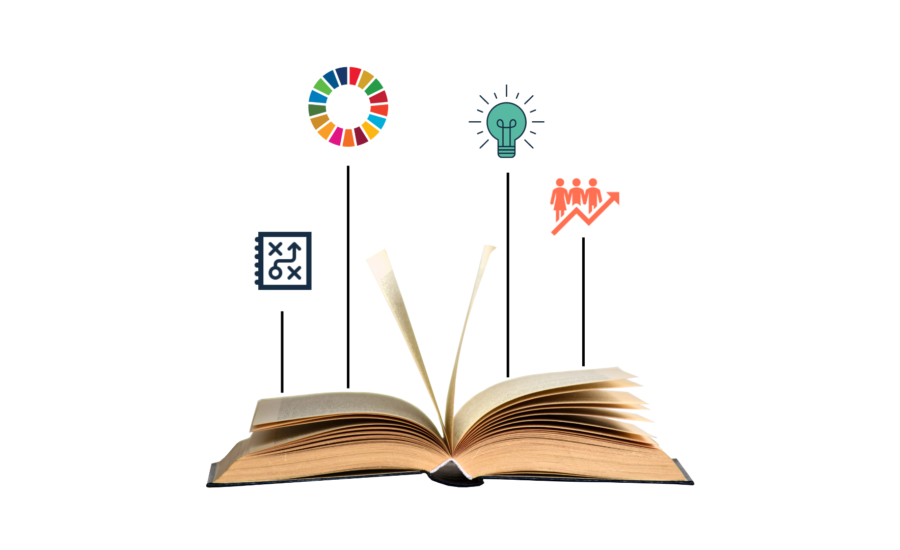 Startup
7-step guide to start (or boost) your business sustainability journey: beginner to advanced
Did you know that sustainability…
…brings you customers: 70% of Millennials would spend more with businesses who put sustainability at the core
…gives your business a competitive advantage: 9 in 10 Millennials would switch brands to one associated with a cause
…makes your company more attractive to talent and your team more productive:

82% of Millennials would rather work for a responsible business

A strong sustainability programme can reduce employee turnover by 50% and increase team productivity by 13%
And these numbers are even higher when you think of Gen Z – aged 10 to 25. Sounds compelling, doesn't it? So how can you achieve all this?
Step 1 (beginner): Focus on what you're already doing and are good at
Try to think about all the activities that you're doing or have done on an ad-hoc basis that made a difference for people or the environment and make a list of all these activities. Try to challenge yourself and think about the areas where you are making a positive impact and those where perhaps you could do be doing more. This will give you a clearer idea of where you are at the moment in terms of both strengths, gaps and opportunities.
Step 2 (intermediate): Set objectives and KPIs that will help you achieve and measure your impact
Measuring the success of sustainability activities is crucial to make sure you can improve over time. Try to set specific objectives for each of the areas of sustainability you're focusing on and next to each objective define KPIs that can help you monitor progress after 6 months, 1 year, 3 years and so on. Remember: You can't improve what you don't measure.
You can find an accessible guide on how to do this here. Template included!
Step 3 (intermediate): Engage your stakeholders
If you want to scale your sustainability programme it's crucial to engage your stakeholders. Your customers, employees, suppliers, partners – they all represent an important part of the organisation and as such their voice needs to be included. What do your customers value? Where do your employees see the company going? And how does that fit into your sustainability plans?
If you want to make sure what you do resonates with these groups, you'll have to listen to them first before going and suggesting new activities. Stakeholder engagement is the key to success when it comes to sustainability.
If stakeholder engagement is where you are now, pause this reading and learn how to start engaging your key stakeholders here.
Step 4 (intermediate): Align your purpose to the Sustainable Development Goals
Scaling your sustainability programme doesn't necessarily mean doing more, but rather doing it strategically. When planning activities around sustainability make sure you adopt an established framework that validates your work and makes it relevant to a broader audience.
The UN Sustainable Development Goals (SDGs) are a set of 17 global issues representing the most important challenges facing our world today. It's the go-to framework for business sustainability because it's accessible, easy to communicate and speaks to a global community of businesses that are working together to build a better future.
The SDGs for business: three reasons why it's time you care. Find it here.
Step 5 (advanced): Include learning into your impact measuring process
So you do have some established objectives and KPIs around sustainability, but what do you do with these? KPIs can help you identify the strengths, gaps and opportunities of your sustainability programme. This is called "Learning" and it's what happens after you've measured impact. Were you able to achieve every objective on the plan? If not, what prevented you from meeting certain targets?
Remember: "failure" is an essential moment of learning because it can help you do better next time. So don't be scared to show unachieved targets and focus on how you can improve going forward. What will you do differently next time?
Step 6 (advanced): measure benefits
Measuring impact is great, but impact on what? Of course, we're measuring impact on people and the planet. But a successful sustainability programme should also keep track of the impact that the activities have on the business itself.
Are your employees happier thanks to your volunteering programme?
Are you saving on costs thanks to energy efficiency measures you implemented?
Did you become a more attractive business for talents since launching your sustainability programme?
How are you measuring all that? We know that sustainability can make a massive difference on your business too. But you've got to keep track of these metrics in order to see the benefits. That's when you'll start to see the amazing potential of where your sustainability journey can take you!
Step 7 (advanced): Go beyond the surface, look at SDG targets
If you've come this far, you probably know about the Sustainable Development Goals and are likely already aligning your strategy and impact to the Goals. And that's great!
With a strong sustainability programme like yours it's time to go beyond the macro-SDGs and look at the targets underneath each priority goal you have identified. These targets can help you measure your impact in a more precise and tangible way. There are 169 targets in total, so make sure you only look at those that resonate with you and your stakeholders the most.
If you've followed all the steps above, you should have a very detailed action plan for your business sustainability. One that is strategic, engaging for stakeholders as well as measurable. That means you have all the ingredients to identify which SDG targets are more relevant to you and really take your sustainability journey to the next level.
And of course, if you'd like to share ideas on how to make this work for your organisation just drop us a message, we're here for you!
Best of luck with your journey.