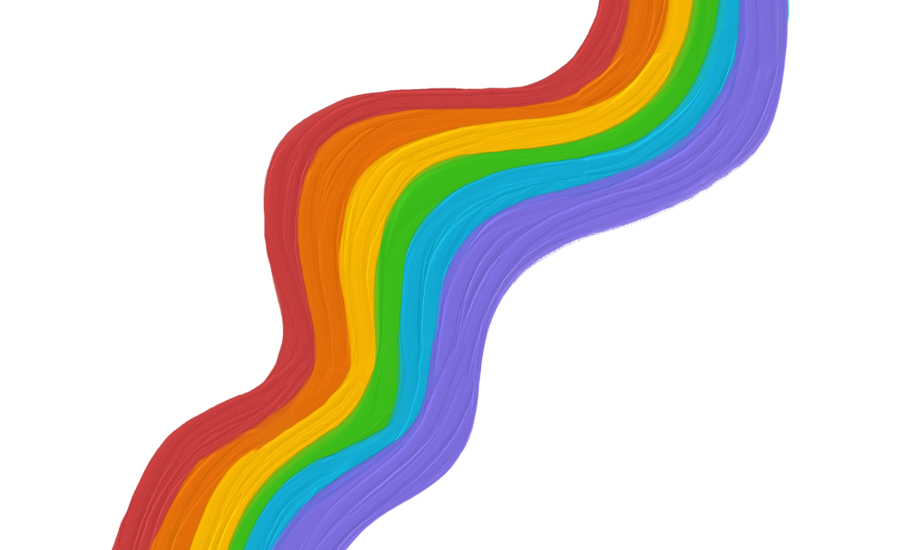 Startup
Diversity and Inclusion: why your business should care
This pride month we'd like to celebrate uniqueness and the importance of working in an environment where you feel recognised, respected and valued. We'll look at three key areas together: what Diversity and Inclusion (D&I) mean; what D&I can do for your people and your business; and how you can get started on this journey.
What do Diversity and Inclusion mean?
Diversity in the workplace is the representation of different genders, races, religious backgrounds, sexual orientations and more. However, ensuring a diverse workplace isn't enough. Diversity is the first step but it's then crucial to include the different ideas, perspectives and contributions that emerge from different groups of people. That's what inclusion is all about.
And of course, inclusion should be equitable. Meaning that people should feel that their views are being given the same opportunity to emerge and they can bring something new/different to the table.
As part of your commitment to Diversity & Inclusion you should check out our partners at Includability – the Home of Inclusive Employers. They're building the standard for companies committed to creating an inclusive and amazing workplace culture.
Why should your business care?
First of all, D&I is all about people and how safe and respected they feel at work. So reason #1 why you should care about D&I is simply because you hopefully care about people. Diversity and Inclusion are in fact good for people AND for business.
D&I committed workplaces outperform their competitors and do better in today's economy. Here's how.
D&I fosters a happier work environment and leads to better retention
Research on company culture shows that when employees trust that they will be treated with fairness, regardless of gender, race, religion, sexual orientation, disability or age, they are:
9.8 times more likely to look forward to going to work
6.3 times more likely to have pride in their work
5.4 times more likely to want to stay a long time at their company
If you're working to create a happier work environment for your employees have a look at this guide for tips and ideas.
D&I drives innovation
Imagine a team of 5 people, all white middle-aged men with a background in finance and/or business. They are trying to solve a problem. Chances are they will present very similar solutions, simply because they come from very similar backgrounds. Now of course each of them will be unique in their own way. But innovation levels among them will be lower overall.
Now image the same team but made of people from very diverse backgrounds, races, studies, etc. Their experiences have been so different from day 1. Because they look different, because they come from different cultures and naturally they will think in ways that differ from one another. Each person's uniqueness will be an added value to the team and their experiences and ideas combined have the potential to develop into truly game-changing solutions. Not that the other team doesn't, but the more diverse team simply innovates at higher rates.
Overall, diversity and inclusion mean that diverse team members have an equal opportunity to bring their unique viewpoints to the table. And that alone is a massive innovation booster for the company.
D&I leads to overall better financial performance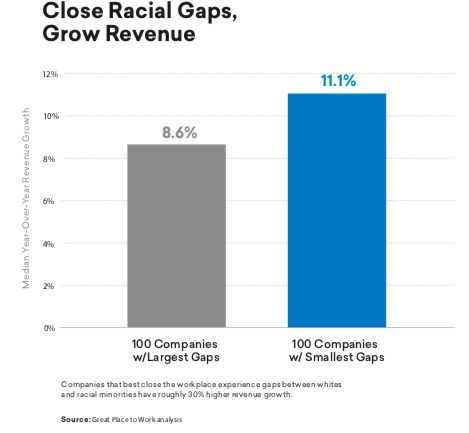 For example, this research from Great Place to Work shows how companies with smaller racial gaps are better off in terms of financial performance as well.
Overall, if diversity and inclusion make employees happier and bring more innovation to the business then that bottom line can only grow!
"Equitable employers outpace their competitors by respecting the unique needs, perspectives and potential of all their team members".
Make D&I key to your business
So, how do you make D&I central to your business? Here are 6 steps to get started.
Set clear D&I targets for different areas of your business. It's not enough to have 50% female and 50% male employees if your Board is an all-male show. 

Align your D&I policy to the Sustainable Development Goals. Particularly SDG 5 (gender equality); SDG 10 (reduced inequalities); SDG 8 (decent work – target 8.5, equal pay for work of equal value); SDG 16 (Peace, Justice and Strong Institutions – particularly in relation to target 16.7, inclusive, participatory and representative decision-making). 

Look at pay gaps. You may think "we treat everyone equally", but you'd be surprised of you can find out when you look at numbers. Are you paying women less for the same job? What about ethnic minorities or people with disabilities? Numbers don't lie. Go there and measure it. 

Launch an anonymous D&I survey to learn how much your employees feel included and respected in their own uniqueness. A key to being a great leader is making sure that every employee feels seen and heard. 

Don't overlook abuse. If you learn that someone has been discriminated against act immediately. 

Promote initiatives to raise awareness about LGBTQI+ rights, gender equality, racial justice and more. You could sponsor a local event or organise one in-house to train your employees on these issues.
D&I is a key area of your sustainability journey as a business. Drop as a note and let's talk about how you can get started and leverage the Sustainable Development Goals to make D&I central to your business purpose.