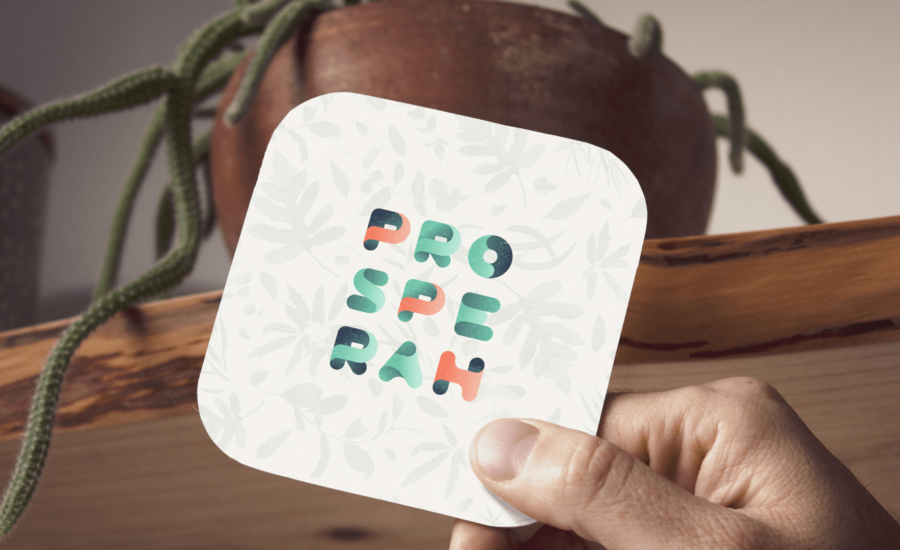 Startup
Our impact to date: purpose is the future of business
Around one year ago on Earth Day we launched our new brand and products as Prosperah. So it's time to share some of our impact stats and stories with our wonderful community of change-makers.
First of all, you may (or may not) recall that till mid-April last year we were still called G.APP17 and were mostly focused on helping companies find the right charity partners through the Sustainable Development Goals (SDGs).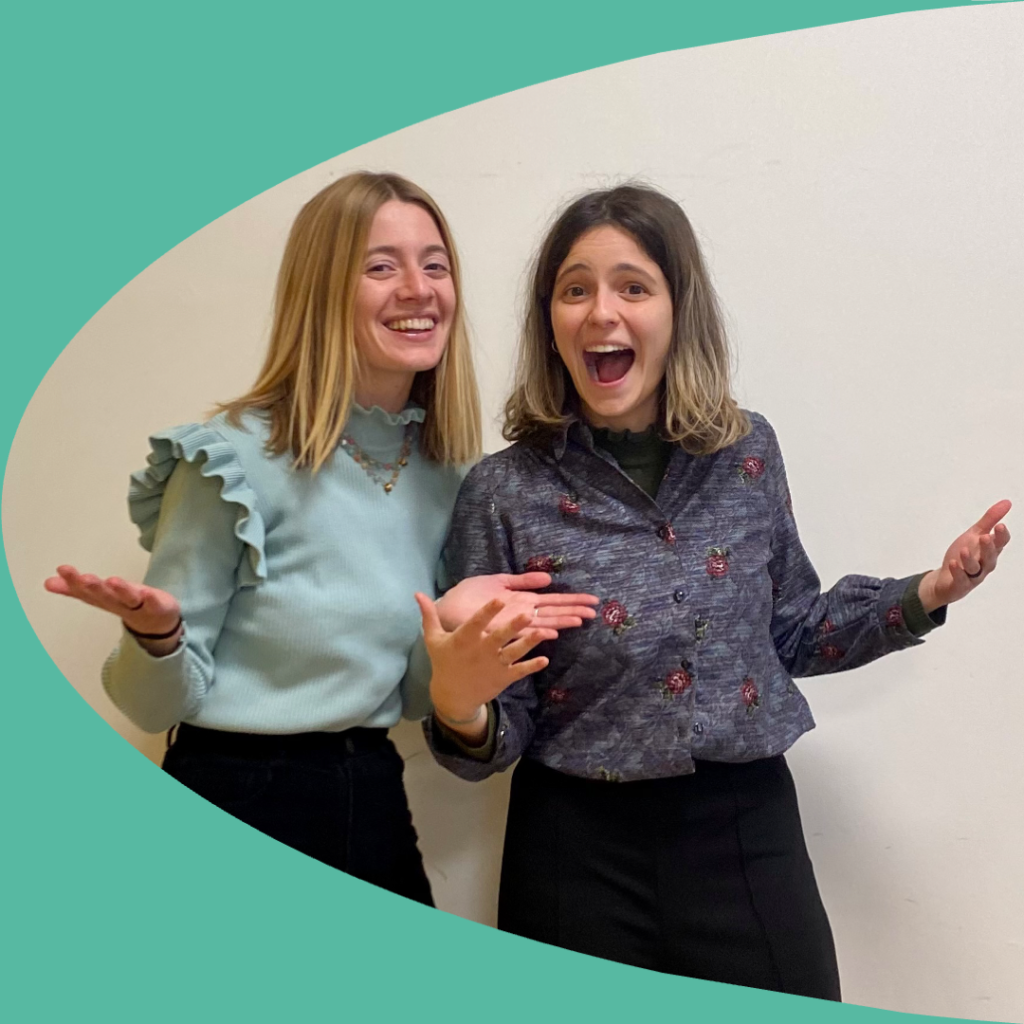 However, during our research time as G.APP17 we quickly realised that many businesses were struggling to understand how to link their work to the SDGs and really how to leverage the Goals to maximise their purpose and impact.
So that's how Prosperah was born. With the aim of making sustainability more accessible and jargon-free. We wanted to help organisations of any size be able to map their purpose to the Sustainable Development Goals, turn it into action and benefit from it.
Our journey as Prosperah started with a key question to our stakeholders: what does prosperity mean to you? And this video is proof of the power that the concept of prosperity has. We want to build a world that works for all. A world where people and planet are the priority. A world where shared prosperity is the norm, not the exception.
And what a journey the past year has been! To celebrate Earth Day this year we'd like to share with you how we've been busy generating prosperity for our clients, their employees, the planet, and of course Prosperah too 😊
We're in the business of purpose-driven businesses
To date (April 2022), we've helped a total of 17 companies align their purpose to the Sustainable Development Goals, take action and measure their impact. Some have worked with us on the "Purpose Mapping", an exercise aimed at engaging a company's key stakeholders and identifying priority SDGs and targets.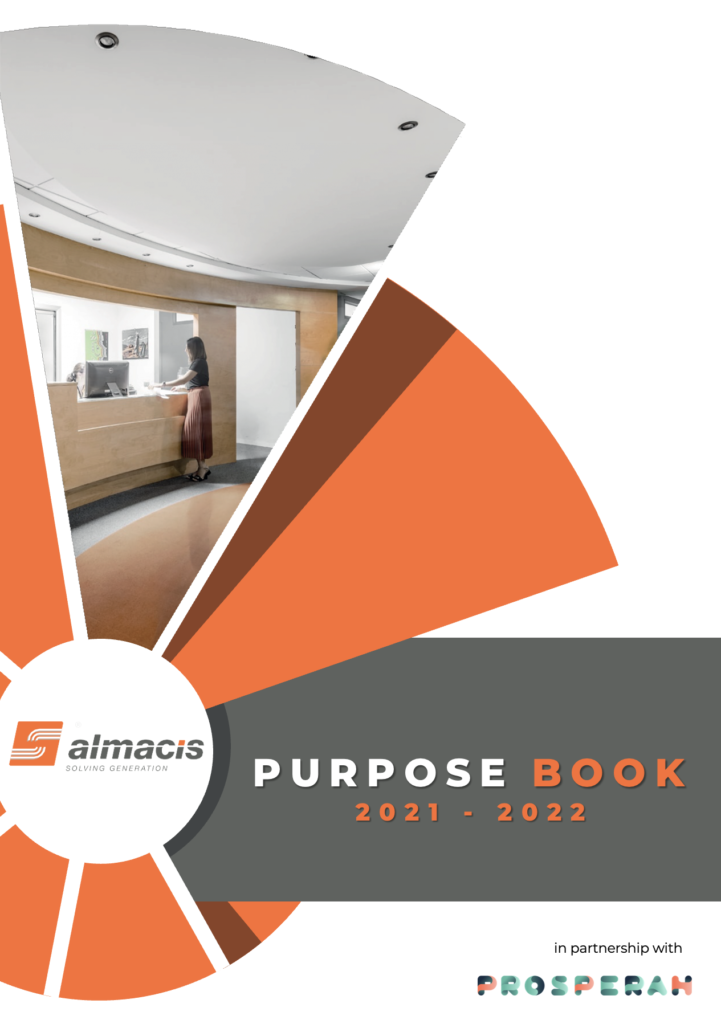 Others have gone a step further and built their very own "Purpose Book". The Purpose Book is a handbook of the company's purpose. It's an SDG-focused action plan built by the employees of the business to define objectives, activities and KPIs around sustainability and measure impact against the Global Goals.
What we absolutely love about our work is that sustainability for us is never confined to one person or department only. Because we actively involve both internal and external stakeholders, it really becomes a collaborative exercise where different people from different roles and perspectives contribute to building a purpose-driven business.
Plus, that means our impact isn't limited to the companies we're directly working with. But it extends to all their stakeholders as well! We're creating a community of change-markers that goes well beyond our direct clients and partners.
Basically, our clients become themselves active agents of change by raising awareness with their own clients, suppliers, employees and investors to help them understand the importance of sustainability and the potential of the SDGs.
Maybe we're not changing the whole world just yet… but we still can't believe it when we see the impact of what're building.
Our impact in a nutshell: 1,000 stakeholders reached
Whether you're reading this because we've worked together or because we're partners, we wanted you to see what we were able to achieve together in the past year.
And if we haven't had a chance to work together just yet, we do hope this can be an invitation for you to join this amazing community. We're building the future of business, where it's all about purpose and shared prosperity.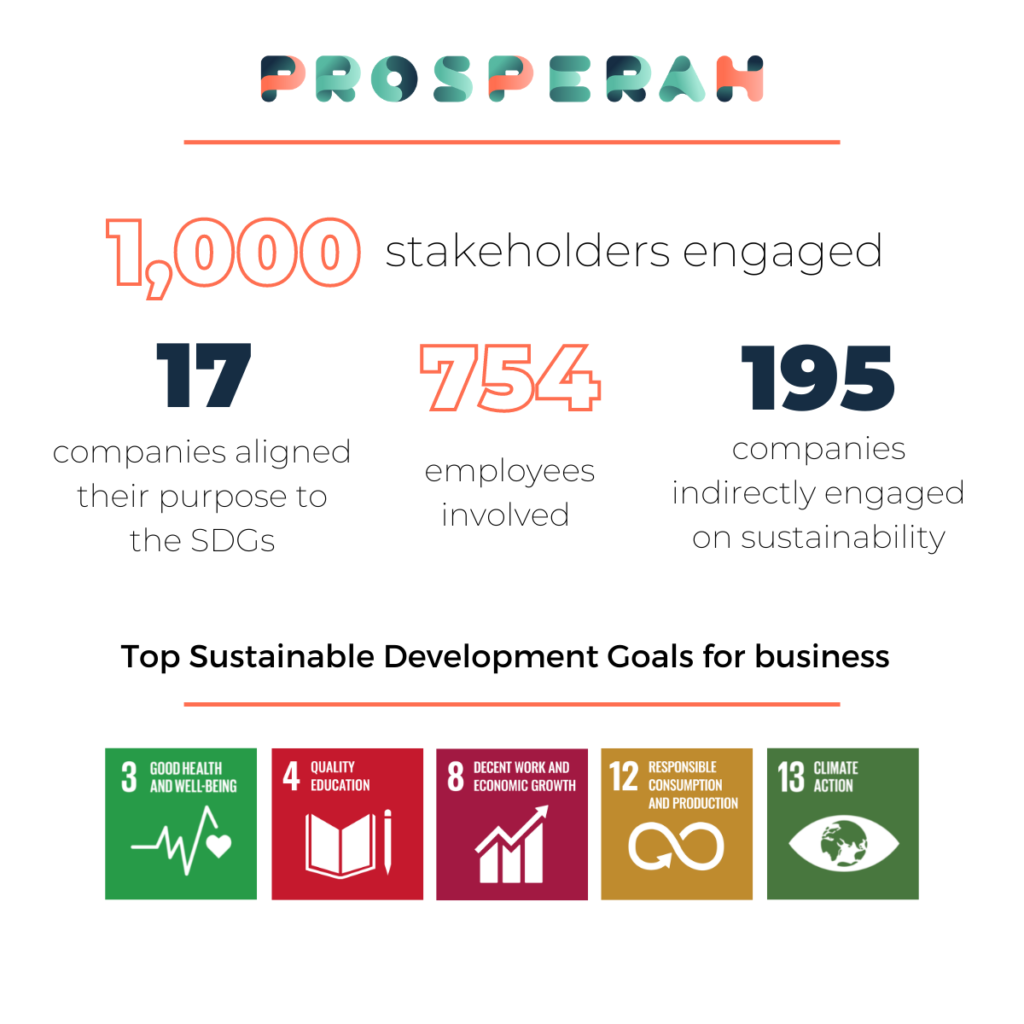 Our impact to date: a closer look
We've directly helped 17 companies align their purpose to the SDGs and boost their impact journey.

As part of our work together, our clients have engaged a total of 1,000 stakeholders. 439 in Italy and 507 in the UK. These people and/or companies were asked to share their views on sustainability and later received a report about the company's commitment toward the SDGs.

Among all stakeholders involved, 195 are businesses. Either clients or suppliers of our clients. More specifically, 102 companies were engaged by our Italian clients and 93 by our UK-based clients. But that didn't limit our impact to Europe only. In fact, some of these stakeholders are based in Asia, Africa, Australia and the Americas too. The impact and reach of this are mind-blowing when we think of it!

Furthermore, we've engaged a total of 754 employees. 396 from our Italian clients and 358 from our UK clients.

Similarly, banks, investors, charities and community groups took part as well.

In 2021 we started working with schools! We're engaging teachers, parents and students on the SDGs. We're inspired and being inspired by the next generation of decision-makers and business leaders.

Based on our data, the top SDGs for businesses are: SDG 8 (decent work and economic growth), SDG 12 (sustainable consumption and production), SDG 4 (quality education), SDG 13 (climate action), SDG 3 (good health and well-being). Covering all areas of sustainability: people, planet, prosperity.
Thanks to the work we've done together with our clients and partners now 1,000 more people have at least heard of the Sustainable Development Goals. And most importantly 1,000 more people have contributed to building a purpose-driven economy. Which to us it's the only possible future!
What our clients are saying
"It was the lightbulb moment of the year. It completely opened our thinking in terms of what we could and should do. I would totally recommend anybody to go through the exercise" – Paul Bryce, co-founder at Encore Recruitment.
"We will repeat this exercise [Purpose Book] with every company of our group" – Enrico Marramiero, Managing Director at Almacis.
"The SDGs now inform every decision we make within the business and actually my team is holding me accountable at all times to make sure that everything we do is in line with our 6 priority SDGs!" – David Atkin, Director at Sanderson Phillips and Atkin Jones.
"We decided to enter the sustainability journey with a young but valuable partner as Prosperah and initiated a process that is rapidly changing the logic that has guided our company for the last 15 years. Thanks to the work we are doing with Prosperah in Texol-Orma we feel we are entering the future… THAT IS DEFINITELY A MORE SUSTAINABLE ONE!!!" – Carmine Cimini, CTO at Texol-Orma.
Learn more about our clients' impact stories here.
It's your turn now…
If you'd like to understand more about the SDGs and what they have to do with your business purpose listen to this podcast. Our co-founder Alice Troiano talks with Paul Bryce from Encore Recruitment about their experience doing the Purpose Mapping exercise together.
So, if you're ready to have your own lightbulb moment of the year drop us a note and let's have a chat. We're keen to meet you and learn more about your impact journey.
Purpose is the future of business. Now the question is, will you make it the future of YOUR business?
Spoiler alert: we'll be launching our very own stakeholder engagement survey this week on Earth Day, so stay tuned to have your say! What should Prosperah's own SDG priorities be in your opinion? Coming soon – look out for a link on our social pages and/or your inbox 👀