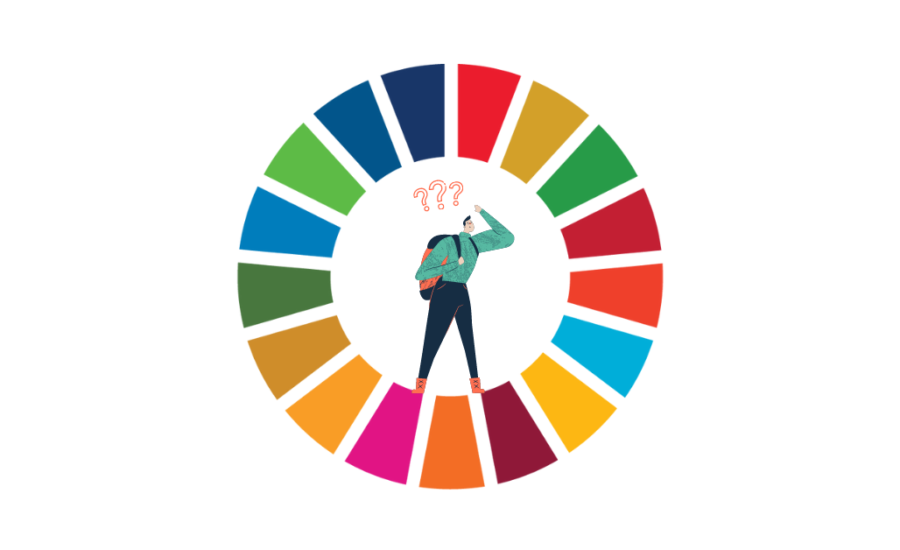 Startup
The Sustainable Development Goals (SDGs) for business: 3 reasons why it's time you care
According to the official UN definition, "the Sustainable Development Goals (SDGs) are the blueprint to achieve a better and more sustainable future for all". They are a "universal call to action to end poverty, protect the planet and ensure that all people enjoy peace and prosperity by 2030". OK that's great… but what does SDGs for business even mean?
If your sustainability journey is ahead of the competition, you'll probably know why the SDGs are so important for future-looking companies. If you're not there yet – don't panic! This is your chance.
Here's 3 reasons why it's time for you to start thinking about this incredibly powerful agenda.
The SDGs make your sustainability activities strategic and your impact measurable
Forget ad-hoc, scattered sustainability activities: with the SDGs we're talking about real, measurable impact. First, there are 17 different goals divided into 5 categories: People, Planet, Prosperity, Peace and Partnerships. And from here you can already begin to see how a volunteering day with your team cleaning a local beach is impacting both planet goals – you're making sure our oceans stay clean – and people's goals – you're also raising awareness with your employees about the importance of living a sustainable lifestyle.
And it's not just about matching your current activities to the SDGs. You can also use the Goals to plan ahead, strategically. There are 169 targets under these 17 goals. And these can be used to set specific impact indicators and objectives that you'd like to achieve as part of your commitment to sustainability. Suddenly, when you start to align your work to the SDGs you'll have a sustainability report with your current impact, and an action plan of all your future impacts and commitments too. It's a double win!
The SDGs make it possible to communicate your sustainability journey and commitment to a variety of audiences and stakeholders
So, most companies I've worked with or talked to are doing something around sustainability and social responsibility. It could be training employees, donating to charity, planting trees or more. Yet when you go on their website or social media pages there's nothing to reference these amazing activities.
On the other hand, companies that are more advanced with sustainability, perhaps even have a sustainability team, have a lot of information on their channels. Like a 100-pages downloadable sustainability report, full of jargon that only their colleagues from the industry can understand. And what about everyone else? Like… your customers?
Whether you're a sustainability pro or beginner, the SDGs have become a must have for business. Overall, they're the the perfect tool to talk about your sustainability activities in an engaging way for your clients, employees and the general public.
The SDGs are on everyone's mouth… if they're not on yours too you're probably lagging behind without realising it!
Here's a picture of Marylebone station (London) a few years ago. BNP Paribas knows a thing or two about communicating their sustainability in a compelling way… they chose SDG-themed floor titles to tell customers (and the public) about their Cleaner air for Londoners initiative.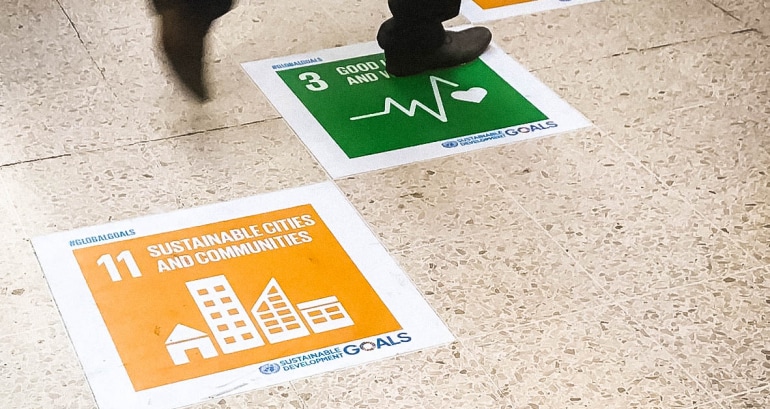 And here they are again, the SDGs projected onto Piramide Cestia at one of the busiest metro stations in Rome.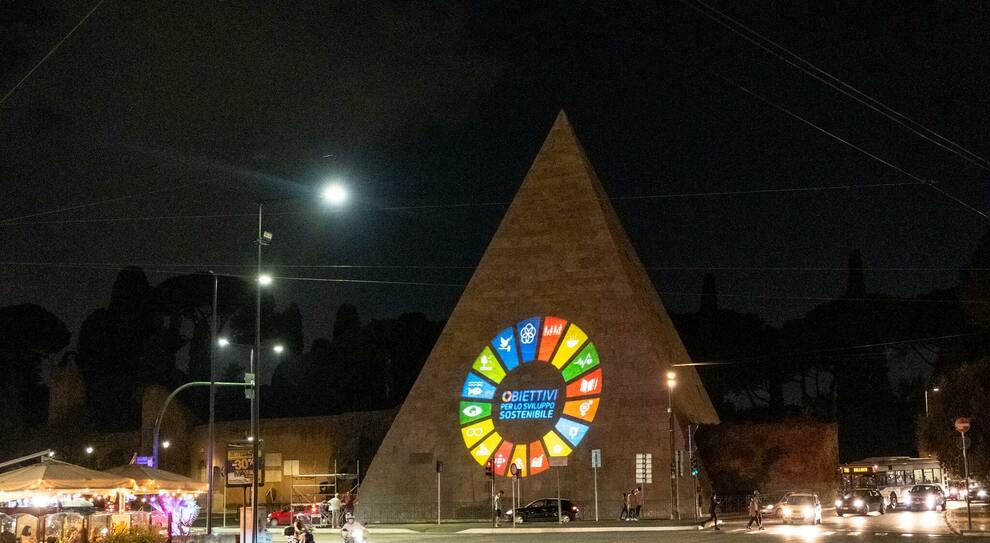 Finally, the SDGs on the move: here's one of the #sdgtrains from Tokyo, raising awareness about the goals. What a cool way of helping people avoid that awkward tube eye contact, eh? And you can learn a lot on the way too!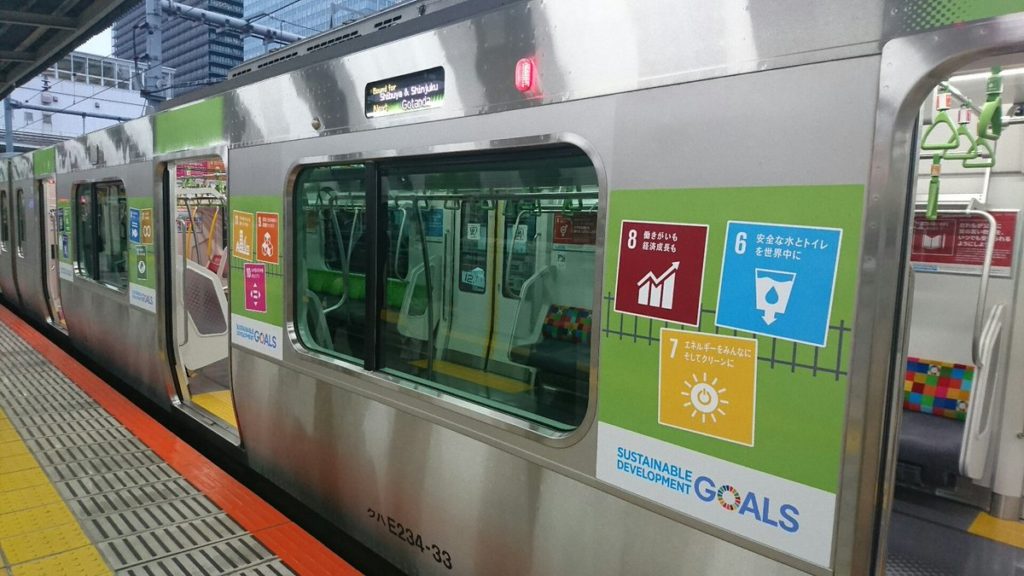 Overall, what this all means for your business is that your current and future employees as well as your customers know about the SDGs. They see them on the streets, on their LinkedIn feeds and even on their train ride to work! It's your call now – are you thinking ahead or lagging behind?
So my guess is if you're here you're definitively thinking long-term. You know it's time to start aligning your activities to the SDGs and are probably looking for ideas and advice on how to do that.
Well, I've got great news for you: you're in the right place! Just drop us an email and we'll have a look at what your company is doing and how your work can be aligned to the SDGs. We could have an… SDG-themed cuppa coffee anyone?