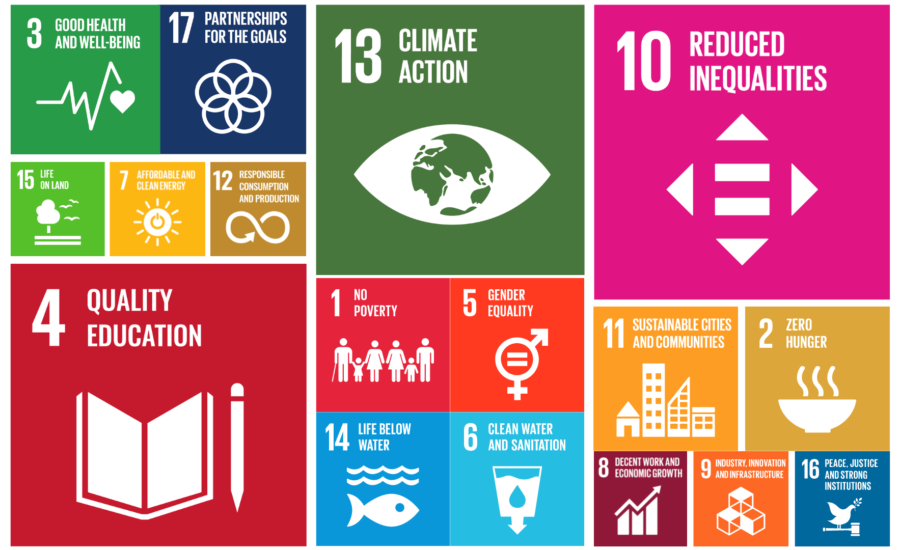 Startup
Small business, huge impact: how SMEs in the UK are transforming what business means in 2022
This article introduces you to our latest study on how Small and Medium sized businesses (SMEs) in the UK engage with the Sustainable Development Goals. The research was carried out by LSE intern Chunxi Zhao. You'll find more info on how to download the full report at the end of this page. Enjoy!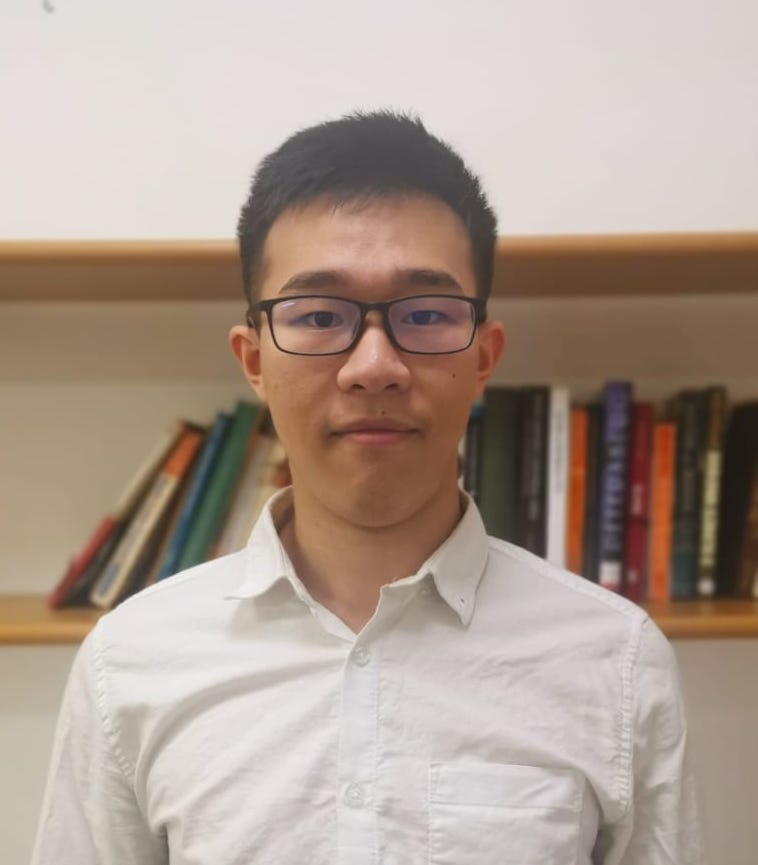 Hi! My name is Chunxi Zhao and I am currently a final year sociology undergraduate at The London School of Economics and Political Science. In my free time, I am really passionate about literature, travelling and delving into politics and policymaking, including ESG and the environment. Luckily, Prosperah offered me an opportunity of summer internship very in line with my passion, where I got the chance to carry out independent research on UK SMEs' sustainability practices. This is the blog that summarises my work over the internship. Hope you enjoy it!
Why small and medium businesses?
Indisputably, sustainability has become THE keyword of the year as we in Europe see the urgency of taking action: Britain experienced the record heat of 40.3C and Spain saw the largest wildfire in decades that claimed multiple lives, damaged infrastructure and destroyed forests. We sense that it is high time to speed up our sustainability journey.
Traditionally, we tend to think of big corporations when it comes to sustainability. Admittedly, big corporations are always under scrutiny for their amplified impact, so we expect them to shoulder more responsibility. It is also true that despite their unanimous support for sustainable development, their performances sometimes fall short of what is expected.
However, there are more approaches to sustainability than just focusing on the larger corporations, with Small- and Medium-sized Enterprises making up 99% of all businesses and 60% of employment. Their further engagement with the Sustainable Development Goals (SDGs) would thus mean the involvement of 60% of the workers in sustainable development! This would truly become a social trend and create wider changes, and let's look at how sustainable development goes in the UK!
Small businesses care
Before looking at the data, let me introduce what the SDGs are. The SDGs are the "blueprint to achieve a better and more sustainable future for all". They include 17 goals for sustainable development to comprehensively guide us toward a better future.
If you wonder what the SDGs exactly entail and why they are important have a look here!
So back to the report. When it comes to awareness, an encouraging 80% of the surveyed businesses find sustainability very or moderately important to their business. Three out of four businesses also believe in the private sector's ability to drive sustainable development in the future.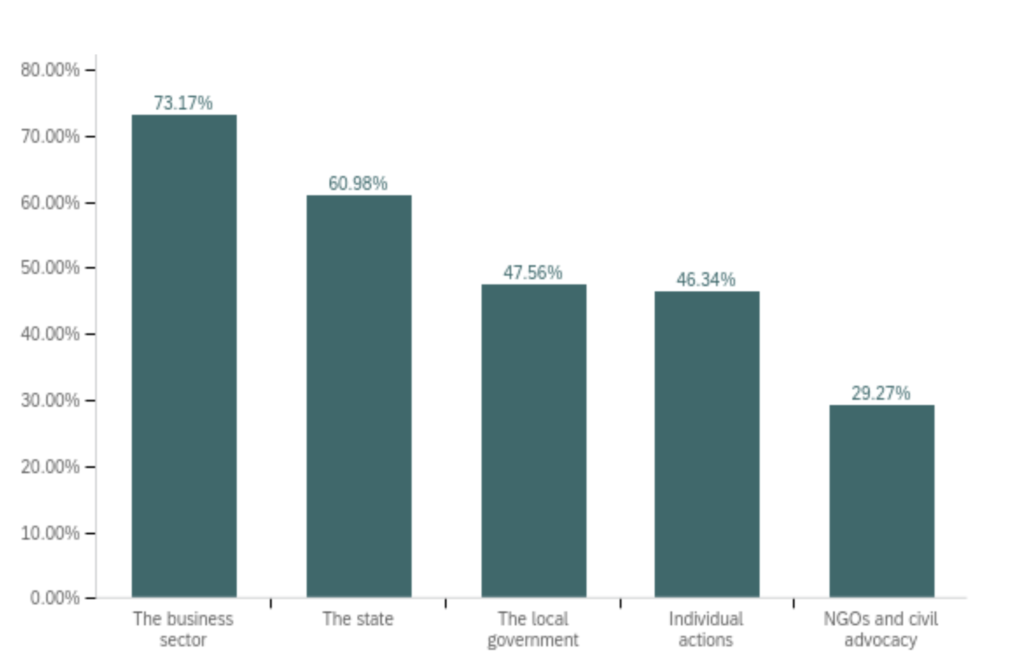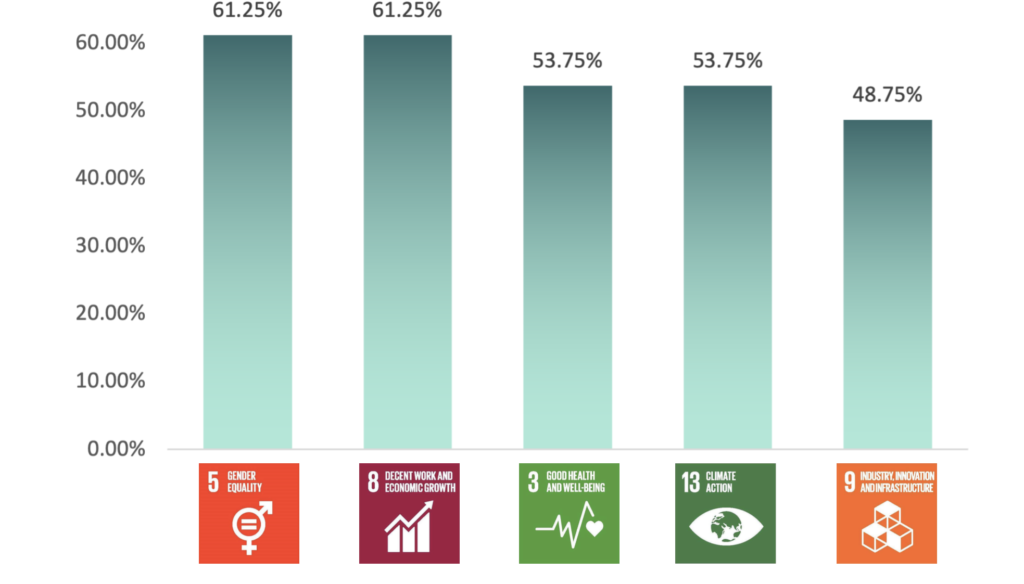 A large proportion of businesses are also translating their commitment into sustainable practices. As many as 66% of the surveyed businesses are taking action to pursue the SDGs or similar goals. More specifically two thirds of the companies are striving to achieve gender equality (the most popular goal), and over a third see themselves as most capable to deliver decent economic growth and employment.
The approaches to sustainability are also diverse and colourful. They range from mental health sessions for employees to ambitious carbon emissions reduction goals, and it is further detailed in the report using the interviews we conducted. In general, businesses are more outward-looking when approaching sustainable development. Over two-thirds of businesses are minimising the harm caused by their business operation and trying to solve the deeper challenges of our society, such as gender inequality and global warming.
What motivates the UK SMEs to pursue the SDGs?
We are delighted to see that businesses genuinely want to do good deeds for society: over 70% chose the stakeholders and the wider society as their main motivation, followed by the owners' and shareholders' commitment (58.6%) and the clients' requirements (55.7%).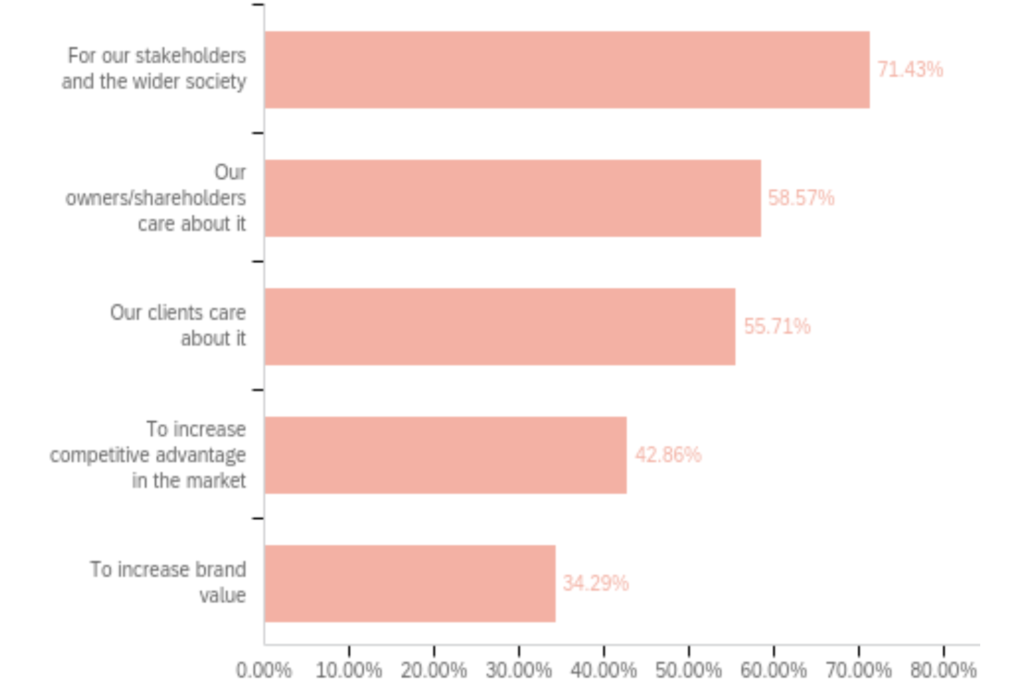 Nonetheless, the businesses' passion, commitment and motivation still run into setbacks from time to time, after all that's why Prosperah exists and is here to help. We found that over half of the businesses are worried about financial constraints (53.3%) when pursuing sustainability, followed by over a third reporting no clear impact measurement plans (38.7%). In addition, the interviews reveal that time constraint is a heavy burden for SMEs which already do not have lots of staff.
Get the full report
This is a summary of the report that demonstrates the enormous potential of the SMEs in Britain to contribute to the Sustainable Development Goals, despite challenges and room for improvement.
To get to know more about the landscape of sustainability among UK SMEs, you can request the full report or the data overview by dropping an email at sdgreport@prosperah.com.
Simply put "SDG report request" in the email subject and you'll receive a full downloadable copy of both the report and the data presentation.
Please note that if you participated in the research you'll automatically receive a copy of both via email.