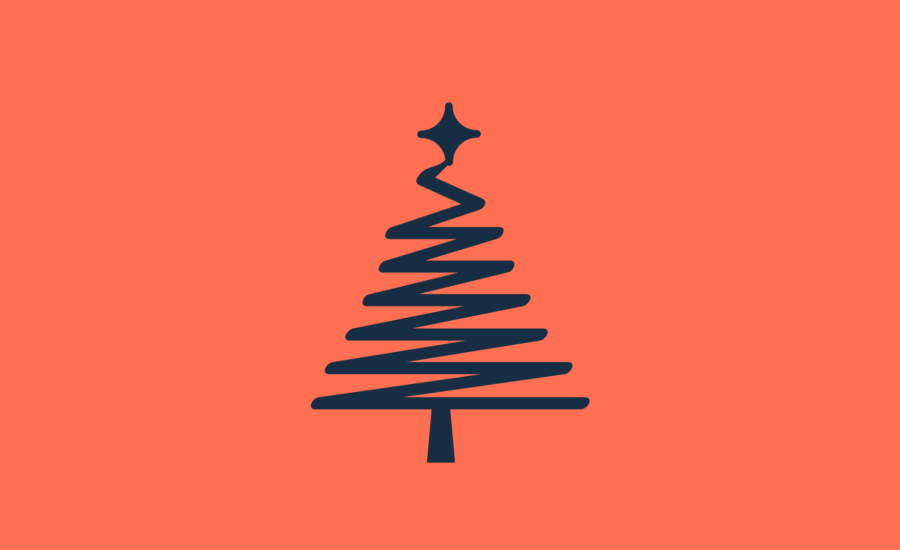 Startup
Zero waste Christmas: Sustainable practices for businesses
Christmas waste statistics never lie:
According to zerowasteweek.uk, "114,000 tonnes of plastic packaging will be thrown away and not recycled in the UK this Christmas."
Almost seems as if the true recipients of Christmas gifts are our bins – not our families.
However, the good news is:
Your business can do something about it this Christmas.
It is never too late – You can make a simple yet powerful decision to change your Christmas waste approach.
In this article, we will show you three sustainable business practices. All these practices are connected to the upcoming Christmas season. We want your business to be prepared and ready for a zero-waste holiday season in 2022.
Luckily, you can also implement the tips we give you at home with your family.
1) Reduce unwanted Christmas gifts among your employees
Did you know:
"Over 33 million Brits receive a gift they do not want, totalling over £1.2 billion."
Now the question that follows is:
"What do millions of people do with unwanted Christmas gifts?"
Let's have a look at the unwanted gifts statistic: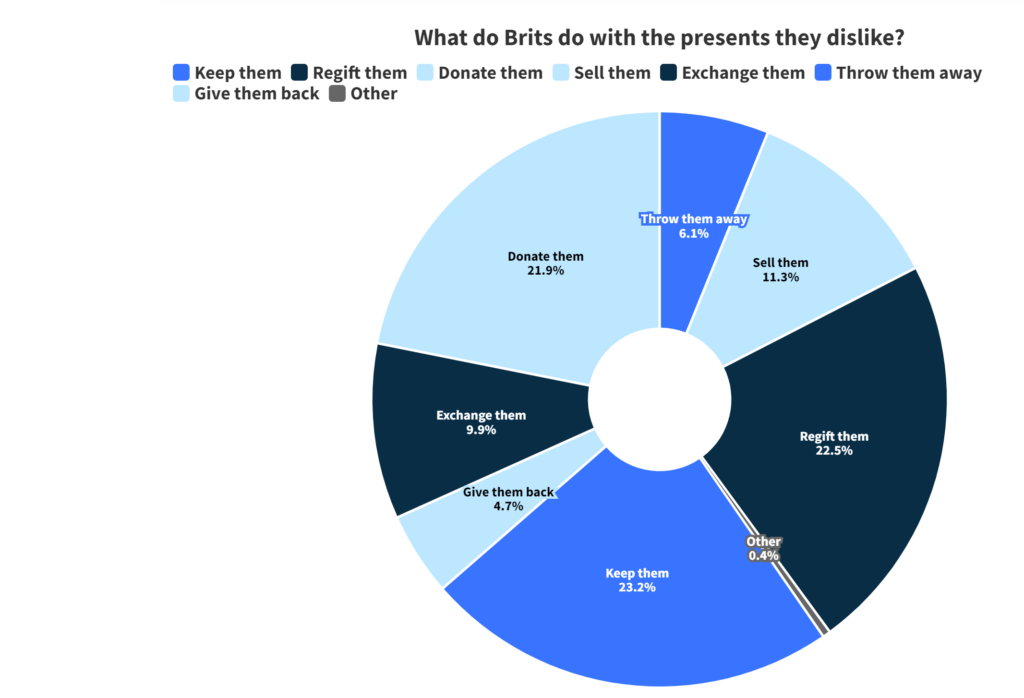 Thank God for British politeness because the majority of people simply keep the unwanted gift. Others regift the items or sell them. Surprisingly, there is a small group of people who give the gift back. But doing this is more acceptable compared to the (small) group of people who throw their presents ways.
This fact triggers an immediate call to action from our end. We want business owners to reduce the number of unwanted gifts among their employees.
So the first step towards a zero-waste Christmas is to rethink what type of gifts your employees will receive this year.
And to help you we listed the top three unwanted gifts in the UK:
Clothing/Accessories
Cosmetic/ Fragrances
Household items
So during your purchasing process, check out if the gifts fall under one of these categories. If yes, the likelihood of ending up in the bin will increase.
By the way, "friends take out first prize for giving the worst gifts". So luckily the chances that you as a boss buy the wrong gift for your colleagues are comparably low.
Here is a tip:
British people mostly enjoy family togetherness, free time, and a "festive atmosphere" during the holiday season. So if you purchase a gift that can enhance family time, the holiday season, or the special atmosphere on Christmas you are good to go.
Again:
Don't waste your money on unwanted Christmas gifts. That will also help reduce waste!
2) Eco-friendly Christmas wrapping
The second approach to a zero-waste Christmas is called eco-friendly Christmas wrapping.
And here another interesting stat published by the UK government:
The amount of wrapping paper bought in the UK in 2013 was so huge that it was reported it would be long enough to stretch to the moon. Nine years later, the numbers are not changing.
Thankfully, we have creative minds who provide public solution this season's wrapping waste problem…
One of them is Eco- blogger Zoe Morrison.
In her blog and online courses, she teaches her audience how to wrap gifts beautifully and with zero waste. Moreover, she initiated the so-called "cut the wrap challenge". You can learn a number of inspirational methods to wrap this year's presents to your team.
Find environmentally friendly (and charming) methods to wrap gifts. That's what the challenge is all about.
Here a picture as an example: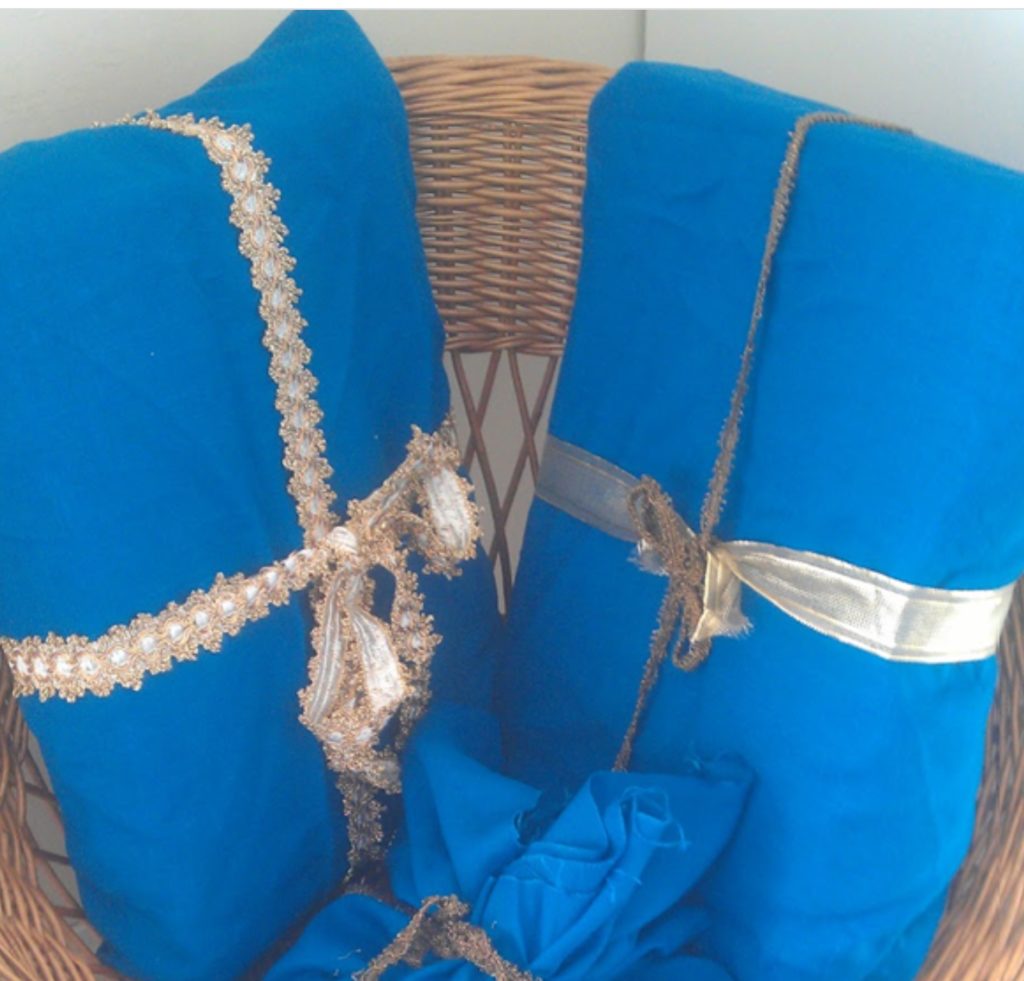 Eco-friendly Christmas wrapping
If you celebrate Christmas with your employees this year, you can make this a fun experience.
For example:
From now on challenge your team to pack gifts sustainably.
If you do that, your Christmas waste will be significantly reduced. Alternatively, you can always reuse your Christmas wrapping. So that it doesn't land in the bin.
3) Sustainable Christmas food
Lastly, prepare sustainable Christmas food. Doing so also contributes to a zero-waste Christmas season. Over "four million Christmas dinners are thrown away every year" – you can make a difference. Plan your Christmas party catering with this in mind. This also includes the number of snacks you offer in the office. At this time of the year, we see an increase in office snacks. Like chocolate in all forms and sizes. Make sure you don't overdo it so food doesn't end up in the bin because it's expired.
You can also find some interesting ideas on the BBC article about how to prepare green food during the Christmas season. In one comment on the website "zerowasteweek" a respondent mentioned the following:
"I use a reusable mesh veg bag to store my vegetables, so I don't have to use single-use"
You and your colleagues can do the same. Reusable items to store food are easy to apply and super effective. No more excuses then. All you have to do is to inform your team and put it into practice.
All three listed steps are sustainable practices towards a greener festive season. If you have any questions or further input, let us know in the comments below. Share the blog post with your friends and colleagues. Let's make this Christmas the most sustainable ever!
Happy Holidays and don't forget to drop us a note if you want to make your business more sustainable in the New Year.